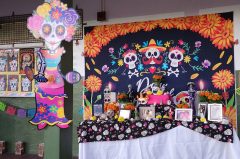 Día de los Muertos combines an ancient Aztec custom of celebrating ancestors with All Soul's Day, a holiday that several Hispanic countries started in the early 1500s. It is celebrated mostly in Mexico on November 2nd, and it is like a family reunion- except dead ancestors are the guests of honor.
Here at St. Malachy, we too celebrated our ancestors with great enthusiasm. On Wednesday, November 2, 2022 our students and faculty hosted the first Día de los Muertos evening displayed, which was viewed immediately after  we celebrated mass.
Thank you to all who took part and attended.