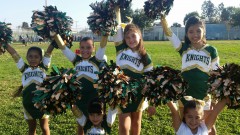 On October 2012, Marissa Capilla an alumni of the school submitted a written proposal to begin a Cheerleading Team at St. Malachy. She shared her reasons and her struggles she underwent while attempting to join the cheer team during her high school years. Though she was passed by in her many attempts, she persisted until she was selected to become a member of the team.  Due to her experience she decided to help strengthen the Self Driven Dreamer within our students.
Last year, she began the process of recruiting students to join. Though every few were interested, she continued to promote the team throughout the year. This year is no different. She has committed herself despite her busy work and school schedule.
The team began with only chants and within a few months they were able to participate in the Annual South Gate Christmas Parade. This year, they are emphasizing in learning new chants, dances, and stunts to prepare  for upcoming competitions.
Not only do they encourage and cheer for our athletes, they are the promoters of our school and community. They are a key marketing tool to the school programs and they create "school spirit."
We are very grateful to our alumni Coach Marissa and wish the Cheerleading Team great success in the years to come.