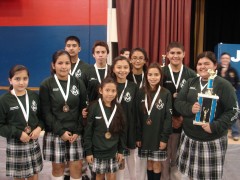 After months of training and studying since joining the team in October, the decathletes had their first competition in the Deanery 16 Decathlon on February 9, 2013 at Junipero Serra High School. St. Malachy Academic Decathlon Team placed 3rd overall, 3rd in Super Quiz, and 2nd in Logic test.
And if that wasn't enough, several members of our team earned individual single subject honors in Religion (3rd), Social Studies (2nd), Science (1st), and Literature (1st).
St. Malachy School was one of many schools in our deanery that participated in this event, in order to prepare for the main event held at the Sport Arena on March 2nd. The Deanery 16 Decathlon was developed to help schools practice for the main event and reward students for their dedication and effort throughout the year.
Thanks to the endless hard work and dedication of our Coaches, extra work, hours and days they dedicated in learning and studying of our team, and the support and encouragement of our parents. Our St. Malachy Knights certainly fought with courage.  Let's offer our support in our upcoming event on March 2nd. We pray and wish all the decathletes the best of luck in their next challenge.
Decathletes:
Team Captain/Current Event – Valeria Sanchez
Literature – Alexis Sanchez
Social Studies – Kassandra Goytia  
Science – Salma Torres
Language Arts – German Olvera
Math – David Ayala
Religion – Arleth Vazquez
Fine Arts – Abigail Bargas
Super Quiz – Elias Zavala
Logic – Vanessa Perez