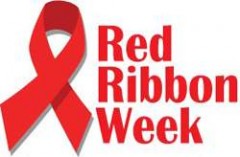 Annually children, adults, and communities join together to continue the fight and commitments to live a drug-free life. St. Malachy has also joined the fight and is committed to live a healthy life.
Red Ribbon Week began in 1988 in honor of (DEA) Drug Enforcement Administration Agent Enrique Camarena, who was kidnapped and killed in Mexico in February 1985 for uncovering a multi-billion drug scam.  The country has been committed for 26 years , we too must continue supporting his fight and the cause he gave his life by wearing red ribbon sending the message: Live drug-free!
National Red Ribbon Week is the last week of October which is celebrated with different themes to assure understanding all across grade levels.
Red Ribbon Themes:
     Monday ,Oct. 27- Drugs are "Old Schoo"- 50's sytle
     Tuesday, Oct. 28 – Friends Don't Let Friends Bully or do Drugs – Twin Day
     Wednesday, Oct 29- Get Your Pink On – wear Pink (Honor of Breast Cancer)
     Thursday, Oct 30- "Team Up" Against Drugs and put "A Cap on Bullies"-Jersey, T-shirt and cap Day